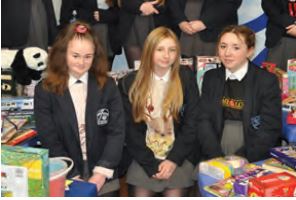 Over the last few weeks we have had lots of Christmas Charity Events happening. Christmas is a really important time to reflect on what we have and how we can help others. Our students have absolutely taken this on board with the events they planned!
We have had a Christmas Toy Appeal running for a few weeks in partnership with Astley Sports Village. We had lots of generous
donations which we collected last Friday. These have now been wrapped and distributed to families and in our local community.
This is a new appeal we have run this year and it has been incredibly heart-warming to see all of the donations. We also recently had our annual Christmas Jumper Day. This year we asked for foodbank donations instead of money and this was a huge success. We received over 30 bags of food which will now be delivered to our local foodbank. We also had lots of brilliant Christmas Jumper. Between the jumpers and the Christmas Dinner in the Canteen it was lovely to get in the festive spirit!