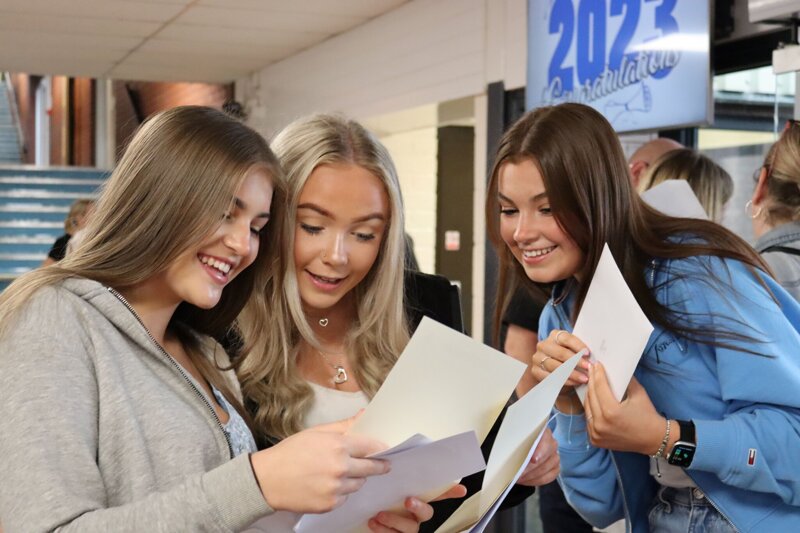 It has been a rewarding year of GCSE results for students at Longdendale High School.
Head teacher Andrea Jones said the results reflected the hard work and dedication put in by the students. She went on to say: "We are delighted with the GCSE results for our Class of 2023. Our aspiration of excellence and ambition for all has certainly paid off for our students and we are extremely proud of them."
Andrea puts the successes down to the students and staff saying: "With the support of a dedicated team of staff, and alongside the students' own talent, hard work and commitment, the students have achieved these well-deserved results. This is the end of a five-year journey, and we are delighted to see our collective efforts rewarded. We wish all of our students the best of luck for the future."
The performance of the school is reflected in great results in many subjects. There were some fantastic individual achievements with many students achieving at least 5 GCSEs at the very top grades. These included Seb and Charlotte, this year's head boy and head girl, who secured a fantastic eightteen strong pass grades between them. These students have faced unprecedented disruption to their secondary education in recent years due to the impact of the Covid pandemic, and the students at Longdendale have approached the challenges this posed with great tenacity and resilience, and the school is very proud of all of their achievements.
The ongoing success of the school was reflected in the school being designated as a National Flagship School for Inclusion earlier this year, and this reflects the ongoing support and guidance in place across the school for all students to be successful in all aspects of school life and beyond. Andrea added that these results supported the future opportunities for the students as they go on to their chosen routes in further education and training and added "We are delighted that the vast majority of our students are now pursuing their chosen pathways into further education at sixth form colleges, with several having secured some fantastic work-based apprenticeships. It is especially pleasing to see so many of our students continuing their education within the Stamford Park Trust at Ashton Sixth Form College."
Melanie Wicks, the Executive Principal for Stamford Park Trust commented "Everyone at Stamford Park Trust is delighted to see the achievement of students at Longdendale High School. Alongside the hard work, support and guidance of the team of staff, students have worked exceptionally hard to secure their results, and we look forward to many of them remaining in our trust for the next stage of their education."