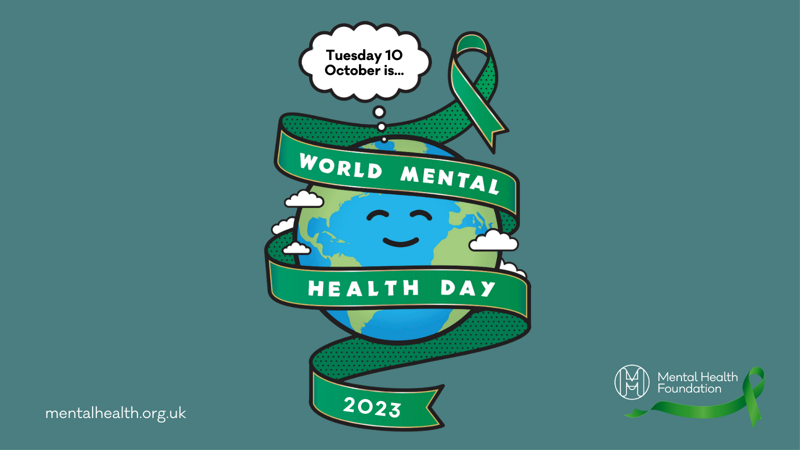 Longdendale High School is proud to support World Mental Health Day.
World Mental Health Day (10th October) is a day to talk about mental health and show everyone that mental health matters. It is also a day to let people know that it's okay to ask for help, no matter what you are going through.
As the theme of World Mental Health Day highlights, 'mental health is a universal human right'.
Talking is good for your mental health. And talking about mental health is important, but starting a conversation isn't always easy. Whether you'd like to talk to someone about how you're feeling, or check-in with someone you care about, here are some tips that can help.
Talking about your mental health
1. Choose someone you trust to talk to
This might be a friend, family member, colleague or someone at school. Or you might be more comfortable talking to someone you don't know, for example, through a support helpline. It can help to do a pros and cons list about talking to someone.
2. Think about the best place to talk
It is important to choose a place where you feel comfortable enough to open-up. You might want to choose somewhere private where you're less likely to be disturbed. You also might want to talk while you do an activity, like walking together.
3. Prepare yourself for their reaction
Hopefully you will have a good experience when you open-up to someone. But there's a chance that they may not react in the way you hope. This may be for different reasons, like they may be worried or not fully understand at first. If that's the case, try to give them time to process what you've told them. It might help to give them information to read to help them understand. And don't forget to be kind to yourself and practise self-care.
Talking to someone about their mental health
1. Find a good space to talk without distractions
If you are worried about someone, try to find a place where you know you can have a conversation without being distracted. Make sure to give them your full attention - it might help to switch off your phone.
2. Listen and ask questions
Listening can be one of the most valuable ways to be there for someone. Show them that you're actively listening by facing them, making eye contact, and not interrupting. Questions can help you clarify what they mean and also show that you are actively listening. But make sure the questions are relevant to what they're saying, and not changing the subject.
3. Ask how you can help
Ask how you can help or make suggestions, rather than telling them what to do next. They might want support with making a GP appointment, help around the house, or just for you to keep things normal and chat about what's going on in your life.
If you or anyone you know is struggling with their mental health, there are lots of resources available to support you. Here are just some below:
Samaritans
The Samaritans offer emotional support 24 hours a day - in full confidence.
Call 116 123 - it's FREE or email jo@samaritans.org.uk
Shout
For free, confidential support, 24/7, text SHOUT to 85258.
If you are struggling to cope and need to talk, trained Shout volunteers are available day or night.
Shout can help with urgent issues such as: abuse, anxiety and stress, bullying, depression or sadness, loneliness or isolation, panic attacks, self-harm and suicidal thoughts. Find out more at https://giveusashout.org/get-help/
Anxiety UK
Anxiety UK was established in 1970 and is run by and for those with anxiety, offering an extensive range of support services designed to help support those affected by anxiety disorders, anxiety and anxiety-based depression. Services available include:
Helpline services - 03444 775 774, open from 9:30am to 17:30pm Mon to Friday, along with a text service 07537 416905 and 'Ask Anxia' chatbot service, available 24/7 for all anxiety queries at anxietyuk.org.uk. See Helpline services for more information.
Anxiety UK also offer fast access to a range of psychological therapy services, including counselling, Cognitive Behavioural Therapy (CBT), Compassion Focused Therapy (CFT), clinical hypnotherapy and Eye Movement Desensitisation and Reprocessing (EMDR) therapy, with appointments available in person, online and by telephone. See Therapy services for more information.
Rethink Mental Illness
You can call the Rethink advice and information line Monday to Friday, 10am to 2pm for practical advice on: different types of therapy and medication and benefits, debt, money issues, police, courts, prison and your rights under the Mental Health Act. Call Rethink on 0300 5000 927 (calls are charged at your local rate).
Mind
The Mind infoline - Mind offer an information line to answer questions about: types of mental health problem, where to get help and drug and alternative treatments and advocacy. Call the Mind infoline on 0300 123 3393 (UK landline calls are charged at local rates, and charges from mobile phones will vary considerably). Or email info@mind.org.uk
The Mind Legal Advice service: if you need legal advice, you can speak to Mind about: mental health, mental capacity, community care, human rights and discrimination/equality related to mental health issues. Call the Mind Legal Advice service on 0300 466 6463 (UK landline calls are charged at local rates, and charges from mobile phones will vary considerably). Or email legal@mind.org.uk
CALM Helpline and webchat
The Campaign Against Living Miserably (CALM) is leading a movement against suicide.You can talk to CALM about anything. Call the CALM helpline on 0800 58 58 58 or use their webchat here.The helpline and webchat are both open 5pm to midnight, 365 days a year.
Tell someone you can trust
You may find it helpful to talk to your partner, a relative or a friend about your problems. They may be concerned about you and welcome the opportunity to hear what you have to say. If this is not possible, you may prefer to talk to someone else you can trust, like a faith leader or a tutor.
Talk to your GP
Your GP may be the first person you talk to about your mental health problems. If you have a good relationship with your doctor, you may find it helpful just to know there is someone you can talk to about the feelings you are having. Your GP may refer you to specialist services if he/she feels they will help you. You can find information about talking to your GP about your mental health in our guide.
If you are unhappy with your own doctor, you can ask to see another doctor at the same practice or make an appointment with a different practice in your area. If you are unsure where to find other doctor's surgeries, look in your local Yellow Pages or try the NHS Choices website.
Of course, help and advice is always available at school, please speak to a member of staff if you're worried or would like some extra support.